Big Data and Driving
If you drive a car that was made in the last half a decade or so, chances are you're a much better, safer driver thanks to big data. Big data has infiltrated every aspect of the automotive industry, from planning to logistics to in-vehicle technology, even if you're not aware of it as you drive. Here are some some current trends, as well as some probable applications for big data's future in your car.

Big data is gassed up and on the road.
The Rise of Big Data in the Auto Industry
One expert analysis concluded that the auto sector "is transitioning from a primarily mechanical-based industry to a software-based industry. In fact, some would argue that the industry is transitioning from a transportation focus to a technology focus." Much of this shift toward big data will not come in the form of radical new technology inside your car, or even anything that you notice at all. Big data has already been implemented in logistical applications such as supply-chain management and, of course, marketing. But there are real-world applications that have a real-world impact on your car.
What You Don't Know Can Prevent You From Getting Hurt
One of big data's most direct contributions to the auto industry is through the perpetual quest to make vehicles safer. As discussed in the article "Is Your Big Data Going to Waste?", big data only works if it provides actionable results, and this has never been more true than in motor-vehicle development. Safety testing, post-accident analysis, closed-track analysis, endurance testing, crash testing, field analysis and weather testing all require the collection, warehousing and analysis of an enormous amount of data. Everything from improvements in anti-lock brakes to automatic drift correction in modern steering systems is the result of big data.
Wifi-Connection from Your Car to the Cloud: The Ford Model
Ford envisions a future in which data is sent not just from the driver to the car company, but vice versa. Cars in Ford's Energi line of hybrids generate a full 25 gigabytes of data every hour. That data is then beamed back to drivers through a mobile app, informing them how their car is performing, the level of battery left to go and the location of the nearest charging station.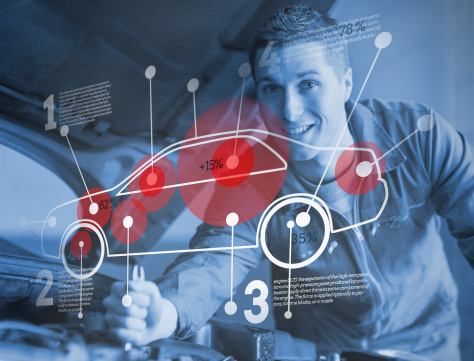 Big data is riding shotgun with you – even if you don't know it.
From supply-chain logistics to crash test analysis to intelligent vehicle technology that collects and analyzes data for delivery to the driver, big data is involved in most aspects of the automotive industry. As the car manufacturing business continues its shift toward becoming an industry based on software and tech, expect to see big data push even farther forward.
Andrew Lisa is a freelance tech writer who covers big data, marketing analysis and small business technology.
A Phoenix traffic ticket attorney can help navigate the arizona traffic laws
Tags: big dataNo Comments.