2014 has seen the arrival of several new entry-level, bare-bones cars – and the reinvention of a few others. With seven cars coming in under $15,000, automakers have seen their bottom line bolstered by the popularity of their low-end models. Here are a few of the top picks among 2014′s cheapest.

Once again, the Nissan Versa is the least expensive car on the road.
Nissan Versa
Once again, the Nissan Versa is the least expensive car in the United States. The 1.6S sedan comes with a sticker price of $12,800. Its hatchback cousin is $2,000 more. The car does not have a lot of muscle; it has a manual transmission and an underwhelming interior – but none of that has hurt sales. Probably because we've all had traffic tickets more expensive than a Versa.
Mitsubishi Mirage
At under $14,000, the Mirage is among the three cheapest of 2014. It's basic and it has five doors, but it is worth a mention for its gas rating. 44 MPG will save you even more in the long run. Don't worry about getting a speeding ticket. Its 77 horsepower engine takes a full 10 seconds to reach 60 mph.
Toyota Prius
As discussed in "5 of the Least Expensive Cars to Own," the Toyota Prius is worth a look for long-term savings. Although its $28,000 sticker price is out of reach for many, the biggest name in hybrids will be worth its weight in gas down the road.
Chevrolet Sonic
The Chevy Sonic comes in at under $15,000 with an impressive array of features, including 10 airbags. Well inside the top ten cheapest cars of 2014, the Sonic is still a manual transmission – but it's actually peppy enough to land you a speeding ticket if you're not careful.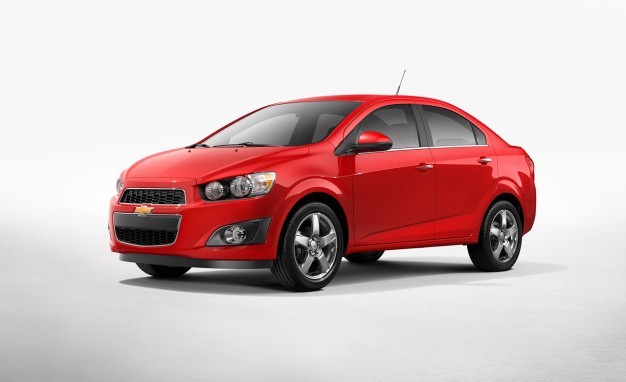 The Sonic has more features than anything else in its price class.
2014 has been a good year for cheap cars. Aware that the country is still not out of the economic slump by a long shot, automakers are betting that their entry-level vehicles will put them over the top.
Andrew Lisa is a freelance auto writer. He reviews new cars and gives tips on driving.
Arizona speeding ticket lawyer can help fight tickets.
Tags: affordable cars · affordable vehicles · buying cars · car shoppingNo Comments.