How to Avoid Them
Log Book Violations: How to Avoid Them
With the best of intentions, truck drivers can forgot to log hours, jot down notes, or get the information into the right hands.
First, consider the log requirements:
Driving hours cap at 11 hours each day.
Combined work hours of driving and non-driving duties (i.e.: loading and unloading) cap at 14 hours each day.
In a 24-hour period, a 10-hour sequence of rest time is required. Within that 10-hour window, eight hours must be spent in the berth for rest and sleep.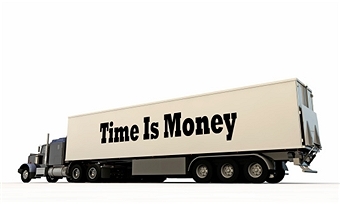 …and that's the truth. Save both by being more efficient.
Federal law requires evidence of these requirements, and hefty fines or even a driving suspension can be issued if, upon spontaneous request, a driver cannot produce his or her log showing a record that all required rest periods have been satisfied for the past seven days.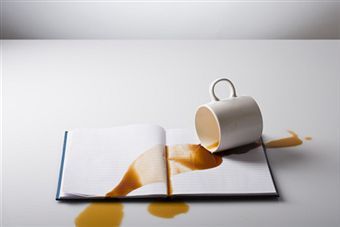 Don't you just hate when this happens? Say "never again" and ditch the paper log.
The goal is to prevent tickets and hours-of-service violations, and the days of pen, paper, calculator, and notebook are quickly going by the wayside. Software options are the cleaner, easier, and most efficient way to go – and most of them manage more than just driving and rest hours. Drivers can manage on their smartphones or laptops all facets they need to track, including:
settlement reconciliation details
fuel and customer reports
truck maintenance records
the cumbersome IFTA required data
Eclipse Logbook is a simple and user-friendly option for the solo driver, while companies like Teletrac are solid options for the bigger trucking companies to manage their entire fleet's drivers.
A quick Google search reveals that there are lots of software packages to choose from, so it's important to shop around to make sure you find the right fit for you and/or your team.
E-log pages are color coded, easily alerting drivers about overage of hours, lack of rest time, etc. No more log pages with spilled coffee or books that have been left behind; the logs are cloud based and forever easily accessed.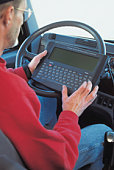 On the spot and easy recording. It's a no-brainer.
Ever since the government created the Federal Motor Carrier Safety Administration, known as the FMCSA, regulations have rightly required better tracking and the ever-important mandatory rest period. It makes sense; safety and lives depend on it. It's such a wise choice to make the process easier, more credible, and efficient.
If you have received a log book violation , hire a commercial truck driver – CDL attorney to fight your log book ticket.
Drive safely out there!
Valerie J. Wilson owns Wilson Writing and Consulting Services and enjoys freelance blogging for many individuals, companies, and organizations about a variety of subjects ranging from how to set up a website that processes credit cards to online reputation management.